Now, every vintage loving gal knows the benefit of shapewear, it really is key to getting the right silhouette for all looks from the 30s to the 60s. I am not blessed with a naturally nipped in waist, in fact it really is the one part of me I'm quite unhappy about, and so when Maidenform offered to send me their waistnipper for review I jumped at the chance.
This waistnipper is the pull on style, in black satin, and is boned and elasticated to really smooth out your shape. I have to admit I'm not a huge fan of pull on shapewear, I favour long, tapered 30s style manicures and pulling on a very tight elasticated garment is always a threat to my talons. Still, it went on without too much of a struggle (it should have done, being sold as "Easy-Up") and certainly did the job well - my trousers definitely felt looser.
It isn't the most ornate or beautiful of garments but anything goes with plain black satin, however, it isn't something to wear if someone
(read: someone you want to impress)
is going to see it as not only is it a bit of a pain to remove with any decorum but on a slightly fuller figure such as mine it pushes the excess flesh to the top. The effect being a slight under-boob muffin top. Hot...not. Again I think this is the result of the pull on style as I don't get a similar effect with my Rago which does up with a row of hooks and eyes.
Still, it was comfortable on for a good 12 hours and didn't roll up or bunch as many cheaper shapewear items can tend to do.
Also, it sadly does not come with suspenders. Which means you either need to go bare legged, wear an additional suspender belt or, as I do, keep it for wearing with trousers.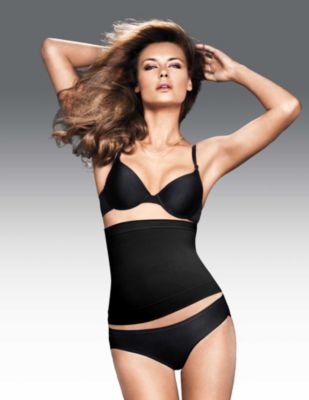 So the good:
affordable at just £19
a good classic design if nothing fancy
actually does nip in the waist
and the bad:
pull on design
no suspenders
sizing seems a bit off
All in all it is a good basic item and definitely represents value for money, it is perfect for wearing with dresses in the summer and with trousers. The thing is that, as a sort-of vintagista, I really do prefer something that clasps at the front and has the option of being used with stockings by having removable suspender straps - but hey, you can't have everything for £19.
You can buy this product, and the rest of the Maidenform shapewear range at their
website.