Jeepers, it's been over a month since I last posted. I've been keeping up with my
Facebook
page but haven't really felt inspired to write anything here, especially since I left my camera in Eastbourne last month. Ah well, we have some catching up to do!
I've signed up for a knitting class especially on sewing together knitted projects - a particular pet hate of mine - and as a result I've been spending a lot of time trying to get my several unfinished items knitted up. As a result I spent most of yesterday, yarn in hand, watching old movies.
I finally got around to watching "Gold Diggers of 1933" an early Ginger Rogers number -boy I love Ginger - and so thought I'd share my thoughts on the costuming with you.
It's an interesting one as it is so VERY early 30s. all small hats, sleeve details and beautifully waved hair. Take a look at this picture before scrolling down. Especially the second along. Note the sleeves and the collar detail.
retrowaste.com
The film is, unsurprisingly given the title, set in 1933. It centres around four showgirls - Carole (Joan Blondell) the sexy, knowing torch singer, Trixie (Aline McMahon) the tall, wise cracking comedienne, Polly (Ruby Keller) the innocent and somewhat dull ingenue and Fay (Ginger Rogers) the flirty glamourpuss.
Opening with a Busby Berkely number its clear the girls are having a hard time. It's the Great Depression and they simply can't find work and have been reduced to stealing food from their neighbours just to get by.
They hear news of a new show opening and go all out to impress the producer who casts them all - only to find he has no money to actually bring it to the stage.
Luckily the girls friend, a "penniless" musician has had his music commissioned for the show, and on hearing of the lack of funds seems to miraculously find the $15,000 dollars needed for the production.
This young man is in fact a millionaire and is in love with the wet fish, Polly, much to the vexation of his uptight older brother who threatens to leave him penniless and who tries every trick in the book to try and break up the pair.
Carol poses as Polly to play him at his own game, but ends up in a stew herself.
The costumes were designed by Orry Kelly, an Australian artist who had move to Hollywood in 1932 in search of acting fame of his own. Kelly would go on to design for Arsenic and Old Lace, Harvey and Some Like it Hot.
The opening scene costumes for "We're in the Money" are pretty risque - little bikinis made of coins. Here is Fay having hers taken by the bailiffs.
And a picture from the front. How that girl managed to be funny, cute and sexy all at the same time I don't know.
In fact Ginger tended to have the best clothes throughout. Her cosmetics counter uniform is simply to die for. Back up top, second dress along!
working it like a boss
Look at the hat, the belt, the cuffs and the collar accent!
half'inched from
It's quite a saucy costume and is referred to in the script as being very sheer. I think it is a deliberate play on what someone "in the money" would wear - it could be elegant but it's overblown. Too tight, too sheer, too detailed. A bit "Stella Dallas."
She has to lend this little number to Carol and later appears in this delightful creation. Circle details throughout - perhaps to mimic the earlier coin costumes. Look at the target puffs on the sleeves and the circles on the belt.
It being the early 30s sleeves were a big deal - even a fairly dowdy secretary has these on her dress. The pattern is somewhat 70s I think, I just love the fullness at the top and the tight forearm. I'd also kill for those frumpy little specs.
Trixie has a couple of lovely outfits - this is really quite spectacular. Look at the chevron print and the huge sheer collar.
She also has an evening dress that makes my heart hurt. All liquid sequins and high necklines...i love that sort of cover all glamour. Not to mention Carol's "illusion lace" style neckline here, with the almost nude net making the collar and bust detail of her gown look unconnected. Amazing work Mr Kelly. Amazing.
There were simply gorgeous details everywhere.
These buttons, on a dress which also had a sailor collar style tie at the back of the neck. Look back up top at the second dress along.
Does this hat look just like fashion plates of the day?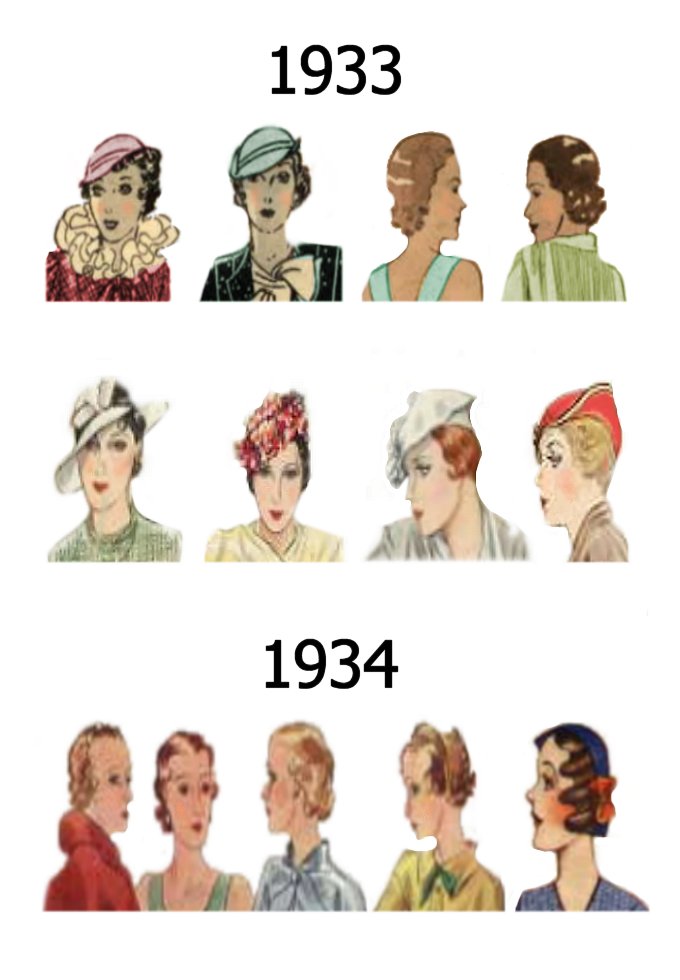 fashion-era.com
And this outfit for the final big number. Something which screams 50s bad girl rather than early 30s to me - with the low cut top, neck tie and tight fringed (fringed!) skirt.
In fact, even if you can't be bothered to watch the whole thing I'd advise watching that closing number. Blondell acts her socks off. Ignore the advert at the beginning. Gods I hate adverts everywhere.
Now I'm off to go and watch "Love Affair" and knit some more. I'll definitely not be away a month this time. Definitely...