I'm sitting in the office working whilst waiting, very impatiently waiting, for the delivery of a long anticipated vintage staple. Yes, I have finally found the Mexican Souvenir Jacket of my dreams and it is being delivered today.
Most vintage lovers have one of these on their list along with green shoes, fur lined winter boots and a telephone cord purse, though it could be argued that the jacket is the most useful.
Decent vintage outerwear is hard to find, decent casual wear even harder. People just wore things longer and a lot of people would either save for a proper overcoat or wear suit jackets.
I'm a casual kind of girl a lot of the time – as much as I'd love to wear vintage suits every day I don't have the energy or the job to allow it – I like my jeans (Freddie's naturally) and my flat shoes for schlepping around town. Finding a genuine vintage jacket that goes with a casual vintage look is a nightmare.
All hail the Mexican souvenir jacket. Usually made of wool or occasionally gabardine (how I long for one in gab – if anyone sees one – holler at me!) the Mexican Souvenir jacket is both short, casual and fun, plus it looks great with jeans and saddle shoes.
I do apologise if I cause any offence but I am putting issues of rich Americans culturally appropriating ethnic clothing aside (this is both 70 years ago and the styles were deliberately Americanised rather than aping traditional costume).
These items were made and sold in Mexico from I believe the early 40s and right into the 70s. I have seen a couple which I would swear are late 30s but these are few and far between. They were primarily bought by American tourists visiting Mexico and I understand they were often simply sold at the roadside by local women although there are certainly some which are "labels" and would have been available in the shops. There was even a sewing pattern issued so you could make your own without the need to travel.
The jackets tend to come in few basic colours and designs, though almost always the same cut. The main colours are red, green, turquoise and cream. Black jackets are a lot rarer and you will occasionally see a yellow one or sometimes something in two colours.
The embroidery usually features Mexican motifs. These are often scattered horseshoes, sombreros and cacti on the front, often featured on the collar and pockets, then either a very large dancing couple on the back, sometimes with the word "Mexico" sequinned on, or a scene showing small figures going about their day to day business. These are usually embroidered on using yarn but sometimes appliqué is used as well, especially on more large scale designs. The borders of the jacket are usually blanket stitched in a contrast yarn.
Most jackets are pretty brash in their design, which is incredibly fun, and I do want one of these, some however are more muted, the decoration being in just one or two colours.
The very simple cut did not change much over time – the jackets tend to be long sleeved do not have fastenings – though some short sleeved and even poncho versions appeared in the 70s. Some stylistic details to keep an eye out for are little tucks at the sleeve cap and some are round necked while others have collars.
I have finally chosen a dark green design, very simple, and unusual for having very muted colours in the decoration – I've not seen one like it before. I cannot wait!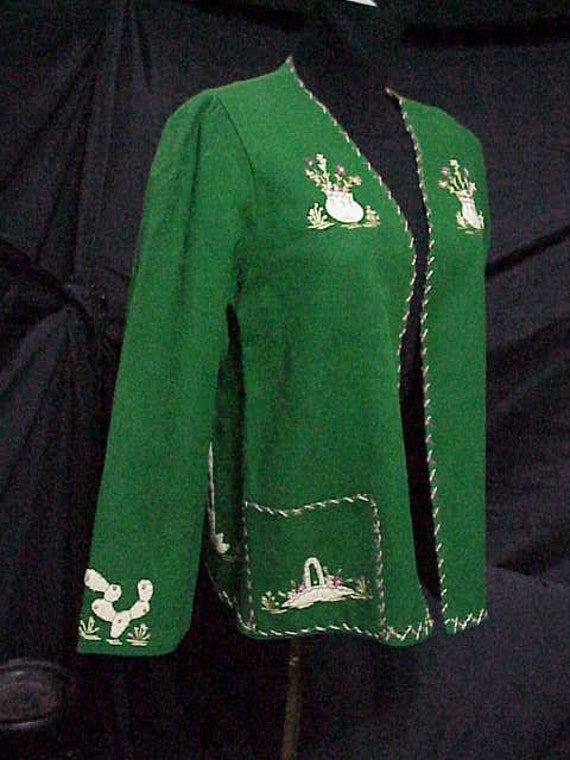 And lo, I've been called to reception, it's arrived!