In a big city like London there is always something interesting going on. So much so that I often succumb to apathy and give up, choosing to sit inside with a glass of wine rather than make a decision regarding what to do and where to go. Still, some things cannot be missed and it is with thanks to this blog that I have managed to get myself onto a few very useful mailing lists and get notified of interesting theatrical events in time to organise myself for a visit.
When an email popped into my inbox for a silent movie screening evening I jumped at it, especially as it was being held at Wilton's – my very favourite theatre in London . I hope to visit them for their theatre tour soon.
The Lucky Dog Picturehouse were hosting the event. Perchance many of you will have heard of them but they were all new to me. They specialize in screening silent films from the end of the 1800s to the 20s – with the aim of providing an authentic silent film experience.
I watch silent movies at home but I had never seen one in a cinema with live musical accompaniment. I have to say it was an incredible experience. Hearing the crowd gasp or laugh in unison really heightened the drama playing out on screen.
We were treated to five wonderful films:
Une Homme de Tetes (1898)
George Melies, the actor and magician, using film in an amazing inventive way for the time – by removing his head! Special effects have been around for a very long time.
The Adventurer (1917)
A Chaplin short I had not had the pleasure of seeing before and probably my favourite film of the bunch. This was where the audience really started to react as one – the laughter was loud and joyous as the Little Tramp tried to escape the cops. As usual there is that sentimental side – Charlie saves a beautiful woman and her mother from drowning (though he caused the accident in the first place) and ends up trying to convince everyone that he is a rich yacht owner.
The lovely Edna Purviance co-stars.
Never Weaken (1921)
Ah, Harold Lloyd doing what he does best – stuntwork. The audible gasps as Harry dangled high above the streets were fantastic to hear. As usual, Harold's unlucky everyman is in love and believing his betrothed has agreed to marry another man he decides to kill himself. Of pourse things don't go entirely to plan....
Felix in Hollywood (1923)
Felix the cat – in Hollywood – nothing more to add really – Miaow!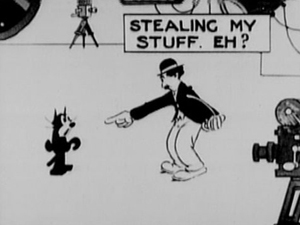 A Buster Keaton film was chosen to end the night – Sherlock Jr sees a down on his luck Buster working in a cinema. He day dreams during a film and we are treated to some amazing special effects as his character joins the action on the film he is projecting.
Now, I'm desperately in love with Buster so this just made the evening for me.
It also features the adorable Kathryn McGuire in one of the most incredible dresses I have ever seen, with a long beaded fringe down the back which trailed as she walked.
It really was a marvelous evening, finished off with a couple of drinks in Wilton's gorgeous Mahogany bar.
If you are able to attend any of TLDP events then I really encourage you to do so, they have a couple