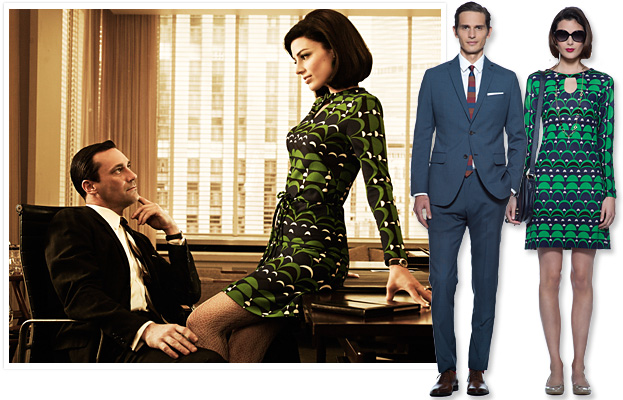 I don't know about you but it feels like the words "Mad Men" have dominated retro fashion parlance for the last thousand years at least. The series began in 2007 and since its very first showing it has been influencing fashion, first with late 50s wiggle dresses and now with its modish 60s vibe.
It is practically impossible to scour the 50s sections of eBay without the descriptor "Mad Men" or "Joan from Mad Men" coming up on every other item – hell – I've been guilty of it myself when selling a particularly figure hugging purple wool career dress. Once I stuck those words on the title, bids doubled, and I felt just a little dirty - double win.
Still, I'm starting to feel it is all a bit tired (though to tell the truth, I've felt that from the start...) Perhaps it is just that all these Mad Men inspired looks are so, well, flat looking. There is more to the look than a little bouffant to your hair, a tight dress and cats eye liner, after all. I'm tired of seeing too short skirts and crispy artificial fibres on items meant to evoke the era.
Anyway – to the point in had. Banana Republic once again have issued an official Mad Men Collection – which Janie Bryant – the shows costumier has collaborated on. this time based around the Beatnik / Mod-ish cool of youngblood Megan Draper. Their 2011 was a riot of errors – low slung trousers for men and above the knee skirts for women, so I can only hope they have made some improvements on the design front this time around.
the 2011 collection...good lord.
It does look promising I must admit but then, having the delectable Coco Rocha fronting the campaign is never going to hurt – the girl gives good 60s.
I'm tempted to say that this time the skirts are too long, if anything. The three dresses above look great in the 60s styled shoot but the standard photos below they look less than inspiring.
What are your thoughts on this latest range - a la Mod or Modern tat?